Wingbuster Spring Kick Off

F2D Combat

GREG WORNELL, NEIL SIMPSON

AND  PAUL KUBEK

TAKE THE TROPHY SPOTS

MAY 27, 2012- MIDDLEBORO, MA – The weather was warm with a light breeze, a good day for some F2D combat. Six contestants were on hand for what was opening day of the New England F2D season. At the end of three rounds three pilots had been sent home with two losses each. Neil Simpson was sitting at 3-0 while Greg Wornell and Paul Kubek were at 2-1.  In round four Greg and Neil faced off with Greg earning the win. Next Paul and Neil matched up and Neil managed to give Paul his second loss. In the final Greg got past Neil in a spirited match to take the contest win.

Wingbuster Spring Kick Off

F2D Combat (6 contestants)

May 27,  2012

Greg Wornell/Wellesley, MA



     4-1
Neil Simpson/E. Brookfield, MA



4-2
Paul Kubek/Brockton, MA



        2-2
Chris Sarnowski/Bedford, MA



   1-2
Jeff Vader/Franklin, NH




     0-2
Brian Stas/Kingston, MA




  0-2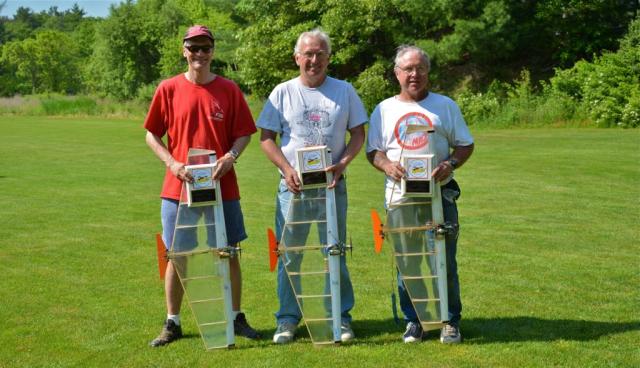 The top three spots went to Greg Wornell (1st), Neil Simpson (2nd) and Paul Kubek (3rd).

Photos courtesy of Jeff Vader