Wingbuster Shootout

CHRIS SARNOWSKI, NEIL SIMPSON AND PAUL KUBEK

TAKE THE TROPHY SPOTS

August 23, 2014– HALIFAX, MA – The Wingbuster Shootout attracted five pilots for a day of Formula GX action. The weather was comfortable with partial cloud cover and warm temperatures. The grounds at the Wingbuster control line facility were manicured and very green.

Round one action saw Joe Fustolo and Chris Sarnowski get off to good starts each earning one cut wins. Round two started with a match-up between Joe and Chris with the latter earning a one cut win. At the halfway point Chris had the clear lead followed by Brian Stas who had posted two good scores. Round three saw Chris stay hot earning a one cut win over Brian and at that point it was clear that the rest of us were flying for second place. Going into round four it was Chris leading with everyone else closely bunched well behind his pace. The final three matches would sort things out. In the first of these matches Paul Kubek earned a two cut win over Joe emerging as a contender in the process. Next Joe and Brian flew to a low scoring draw hurting both of their chances. In the final Neil Simpson, who was flying steady after a slow start, secured an airtime win over Chris sneaking into second place in the process. The final order of finish was Chris, Neil and Paul.

Thank You to the Wingbusters for allowing us to use their fine facility.

Wingbuster Shootout

Formula GX Combat

5 Contestants

10 matches – no mid-airs

(A) Chris Sarnowski-Bedford, MA


  2060pts
(E) Neil Simpson-E.Brookfield, MA


1840pts
(A) Paul Kubek-Brockton, MA



1735pts
(E) Brian Stas-Kingston, MA



  1640pts
(E) Joe Fustolo- Soughton, MA


    1530pts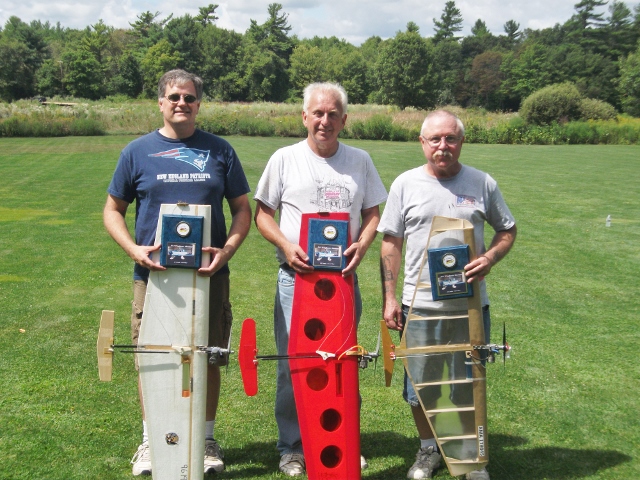 The top three were Chris Sarnowski (1st), Neil Simpson (2nd)

and Paul Kubek (3rd)

photos coutesy of Paul Kubek and Brian Stas