The Wingbuster Shootout

for F2D Combat

JEFF VADER, MARK RUDNER & NEIL SIMPSON

TAKE THE TROPHY SPOTS

SEPTEMBER 7, 2008-MIDDLEBORO, MA-The temperatures were warm, skies mostly sunny with a strong breeze that made the day quite comfortable. The Wingbuster Club Field in Middleboro, Ma was the location. The grounds, as always, were in great shape.

At the end of two rounds Jeff Vader and Matt Stas each had two wins, two pilots had been sent home while Mark Rudner, Roy Glenn, Neil Simpson and Paul Kubek each had a win and a loss. The best match in these first two rounds was a battle between Mark and Roy with Roy using a single cut late to earn the win. In round three Jeff Vader gave Matt Stas his first loss. In the next match Mark Rudner defeated Paul Kubek in a very well flown match. Next, Roy Glenn and Neil Simpson had a good match that was tied a cut apiece in the final minute after some good flying by both pilots. Neil took the final cut taking out both airplanes in the process for an ugly win. In round four Mark gave Matt his second loss while Neil got past Jeff when Jeff had engine problems. This set-up the finals between Jeff, Mark and Neil. Jeff got a bye and Mark sent Neil packing in the semi-final. In the final match Jeff got past Mark, when after some good action early there was mid-air contact and Mark lost his handle for a DQ.

Thank You to Rick Clark who brought this event to fruition and to the Wingbuster Model Airplane Club for the use of their great facility.

The Wingbuster Shootout

F2D Combat

8 contestants

Jeff Vader-Franklin, NH



  4-1
Mark Rudner-Somerville, MA


4-2
Neil Simpson-E.Brookfield, MA

    3-2
Matt Stas-Kingston, MA



2-2
Paul Kubek-Brockton, MA


    1-2 * won fly-off
Roy Glenn-Southampton, NJ


1-2 * lost fly-off
Brian Stas-Kingston, MA


     0-2
Greg Wornell-Wellesley, MA


0-2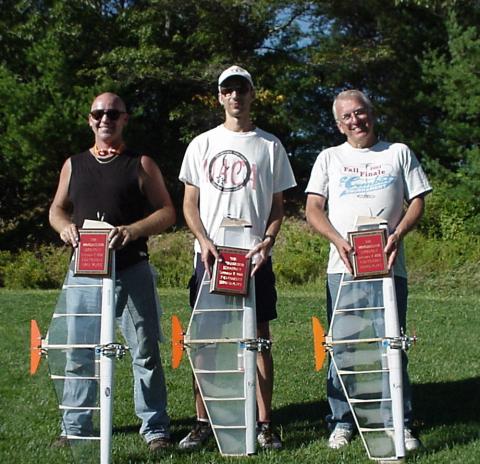 The trophy winners are Jeff Vader (1st),

Mark Rudner (2nd) and Neil Simpson (3rd)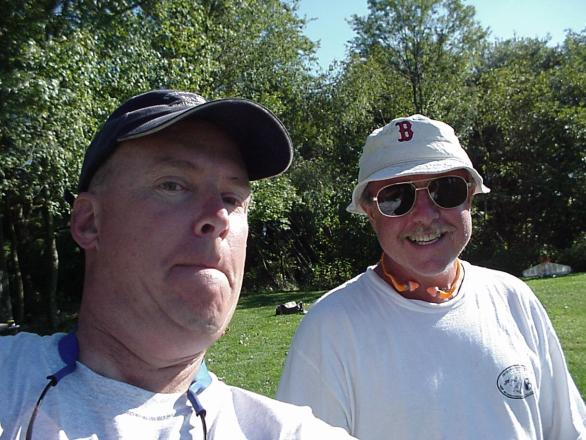 photos below courtesy of Jeff Vader