Wingbuster Shootout

for F2D Combat

NEIL SIMPSON, GREG WORNELL

AND BRIAN STAS

TAKE THE TROPHY SPOTS

OCTOBER 24, 2010-MIDDLEBORO, MA-Five New England pilots were on hand for this one. The weather was mostly cloudy and dead calm with temperatures peaking in the low sixties. The Wingbuster Club Field in Middleboro, Massachusetts, was the location for what would be a great day of F2D Combat.

Since there were five competitors, we flew a round robin format each pilot flying the other four once each. This would be ten matches with the best record taking home the win. The last two of these ten matches would be pivotal. Going into these matches Brian Stas, Greg Wornell and Neil Simpson were sitting at two wins and one loss. In match number nine Greg and Brian faced off. They had a great match, lots of twisting and turning with each pilot accumulating two cuts apiece. In the  re-fly Greg got past Brian on airtime following some mid air contact. Match ten was between Neil and Jeff. If Jeff won there would be a three way tie for second between these two pilots and Brian. If Neil won he would be tied for first with Greg. The combat gods favored Neil in this one as Jeff had engine trouble that cost him serious airtime at the start. When Jeff did get up Neil successfully ran like a rabbit despite some serious pressure from Jeff. This result forced a fly off for first and gave Brian sole possession of third place. In the fly off for first the combat gods were still smiling on Neil when Greg  also had engine trouble at the start of the match. When Greg did get up the action was fast and furious, however, Neil held on for the match and contest win.

Thank You to the Wingbuster Model Airplane Club for the use of their wonderful facility. Please know it's very appreciated. Also, a special thank you to Chris Sarnowski who came by to help with the judging and made the day better for all of us, in the process.

The Wingbuster Shootout

F2D Combat

5 contestants

Neil Simpson-E.Brookfield, MA


   4-1
Greg Wornell-Wellesley, MA



3-2
Brian Stas-Kingston, MA



    2-2
Jeff Vader-Franklin, NH



       1-3
Paul Kubek-Brockton, MA


          1-3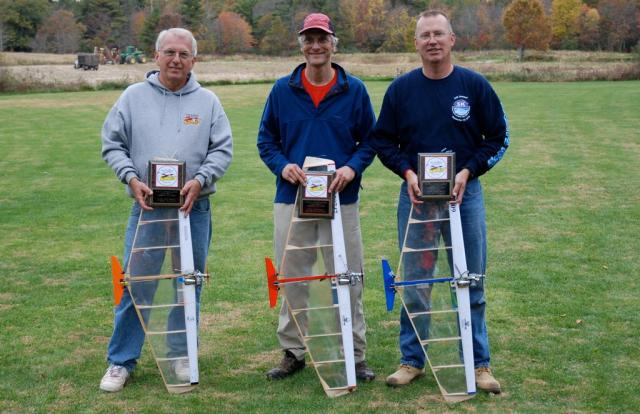 The trophy winners were Neil Simpson(1st), Greg Wornell (2nd) and Brian Stas (3rd)

photos  from the camera of Jeff Vader