Salmon River Shootout

"ONE N DONE" GOES TO JEFF VADER

AUGUST 22, 2010 – EAST HAMPTON, CT –  Six New England combat pilots were on hand for this one.  The weather was warm and as we arrived it was raining heavily.  A quick check of  "Accu-Weather" revealed a pretty dismal forecast with the exception of an approximate two hour window between 10:00am and noon. It was decided that we would squeeze in a single elimination "One-N-Done" speed limit event and then call it a day.

Round one started with Brian Stas earning a two cut win over Paul Kubek. In the next match up Jeff  Vader defeated Joe Fustolo. It took two tries as they flew to a one apiece draw and then in the re-fly a line tangle crash gave Jeff the win. In the third match Neil and Glenn Simpson faced off. Glenn advanced when the ground came up on Neil just before match end. In Round two Jeff got a bye while Glenn and Brian waged war, with Brian earning a one cut win. In the final Brian and Jeff  went hard at, twisting and turning in early action, however, before the halfway point, the ground came up on Brian giving Jeff the contest win.

It was good to see old friend Ernie Carosella, who came by and helped with both pitting and judging.

Thanks to all the guys who shared the judging and thanks to Gene Pape for a very unique and effective set of rules.

Salmon River Shootout

"One N Done"

Speed Limit Single Elimination Combat

6 contestants (5 from MA) (1 from NH)

Jeff Vader-Franklin, NH



  2-0
Brian Stas-Kingston, MA


      2-1
Glenn Simpson-Worcester, MA

    1-1
Neil Simpson-East Brookfield, MA

0-1
Joe Fustolo-Stoughton, MA


   0-1
Paul Kubek-Brockton, MA


     0-1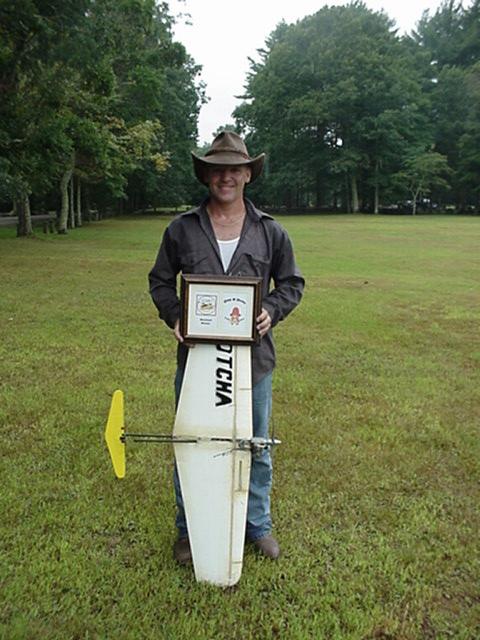 Jeff Vader was the winner of the "One N Done" at the rain shortened

Salmon River Shootout

Photos below compliments of Jeff Vader