The Last Shootout

for F2D Combat

NEIL SIMPSON, KEN HARGREAVES

& JEFF VADER

TAKE THE TROPHY SPOTS

OCTOBER 21, 2007-HINGHAM, MA-The temperatures were warm, the sky was clear, the sun bright. It was a beautiful, seasonably warm late fall day in New England. The Wompatuck State park, in Hingham, Massachusetts, was the location.

At the end of two rounds Ken Hargreaves and Neil Simpson each had two wins, two pilots had been sent home while Jeff Vader, Greg Wornell and Paul Kubek each had a win and a loss. In round three, Neil Simpson and Greg Wornell faced off and three flights in a row ended up tied two cuts apiece. In the fourth re-match Neil just got past Greg. Round three also saw Ken Hagreaves hand Paul Kubek his second loss. Ken stayed hot handing Neil his first loss and Jeff his second in rapid succession. This set-up the finals between Neil and Ken with Neil having to win twice. Neil won the first one when the ground came up on Ken giving him an airtime loss. In the next match they tied and then in the re-match Neil just got past Ken to take home the contest win.

Thank You to Rick Clark who cd'ed this contest and did a lot of good work , that helped to make it happen. 

The Last Shootout

F2D Combat

7 contestants

Neil Simpson-E.Brookfield, MA


5-1
Ken Hargreaves-Worcester, MA


4-2
Jeff Vader-Franklin, NH



    2-2
Paul Kubek-Brockton, MA



1-2 * won coin flip
Greg Wornell-Wellesley, MA


   1-2
Brian Stas-Kingston, MA



  0-2
Rick Clark-Hingham, MA



  0-2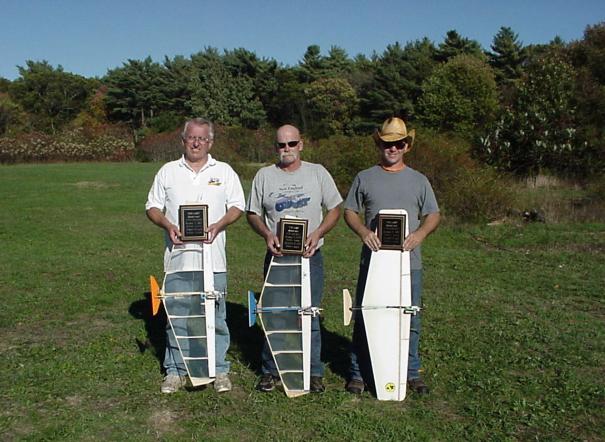 The trophy winners were Neil Simpson (1st), Ken Hargreaves (2nd) and Jeff Vader (3rd)

photos below courtesy of Jeff Vader