2013 GX Icebreaker

NEIL SIMPSON, BRIAN STAS

AND CHRIS SARNOWSKI

ARE TOP THREE

April 21, 2013 - WRENTHAM, MA - It was sunny, some wind and seasonably cool for this year's running of  the GX Icebreaker, the 2013 New England combat season opener. There were five pilots in attendance ready to kick off the new season.

The end of round one found four of the five pilots bunched with scores just slightly in excess of 500 points. In round two Brian Stas and Neil Simpson each posted one cut wins and found themselves tied atop the leader board at the halfway point. In round three these pilots both posted two cut wins to remain tied as they distanced themselves from the field. Their round four flights would decide the contest winner. In the first of these matches Neil posted a two cut 625 point win over Chris Sarnowski. In the final match Brian had to settle for a one cut 620 point win over Glenn Simpson when he took all of Glenn's streamer on the first cut. This gave Neil the narrowest of victories. The final order of finish was Neil, Brian and Chris.

Thank you to Chris Sarnowski for cd'ing the contest and securing the sanction and field permit.

GX Icebreaker

Formula GX Combat

5 contestants ( all from MA )

10 matches ( no mid-airs )

Neil Simpson-East Brookfield, MA


2480pts
Brian Stas-Kingston, MA



     2475pts
Chris Sarnowski-Bedford, MA


      1540pts
Paul Kubek-Brockton, MA



   1410pts
Glenn Simpson-Worcester, MA


   1310pts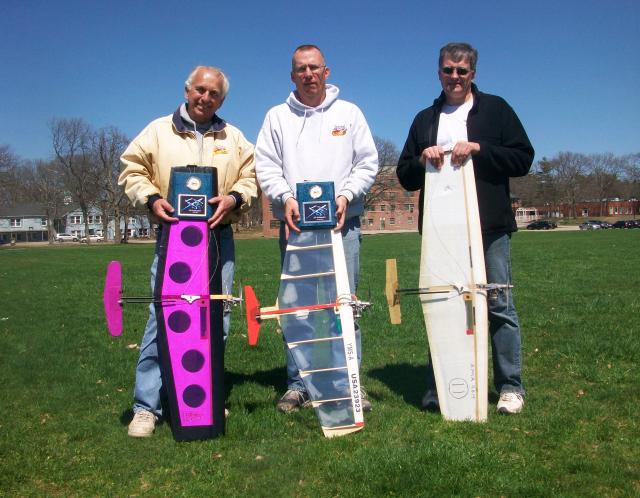 The top three were Neil Simpson( 1st), Brian Stas (2nd) and Chris Sarnowski (3rd)