1st Igor Dementiev-visit from Moldava (current European Champ)

2nd Mark Rudner

3rd Mike Willcox

4th Andy Mears

37 Pilots. Full double.

Very smooth contest.

Our RC club hosted this contest. Very pleasant. Nice covered pavalion with work benches.

Both days club kitchen was a big plus with burgers, dogs, bake beans and potato salad.

I had great help with judges: Chris Hess, Neal Rose, and Allan Green. Muffy Rudner (Chuck's wife and Mark's Mom) and my son Michael's future better half, Marina, did all the match posting and behind scenes work/

I did the "forestry tape" streamers with enhanced tab (5" piece folded back three times to make approx 1" tab) and this wrapped with strapping tape which had opposing 45 degree angles to help with stress failures as pictured in rule book.

Only one DQ for shutoff failure. The new rule of CM doing a grounding of both pilots when in a line tangle is a disaster.

Did a 5 column 40 person matrix which was "massaged" a few time to make a better contest.

My RC club members I think enjoyed this "new" aspect of the hobby.

Pat

Houston F2D - May 1st and 2nd

Our man, Mister Mark Rudner, had a very impressive finish

Mark beat the  reigning f2d world champion

(and only lost by a hair to the current  European f2d champion),

both of whom came from Moldova in Eastern  Europe to compete. 

There were 37 contestants, including most of the 

US and Canadian teams for the upcoming world championships.   

Lots of  great matches.

Report below from Pat Wilcox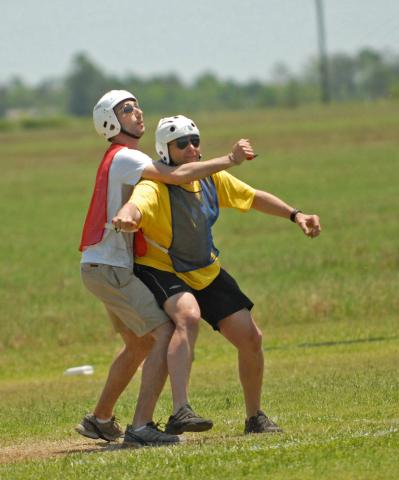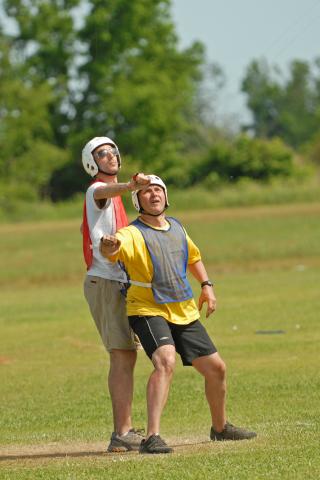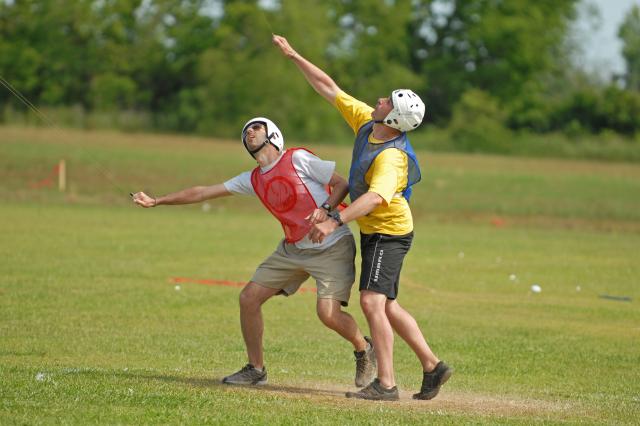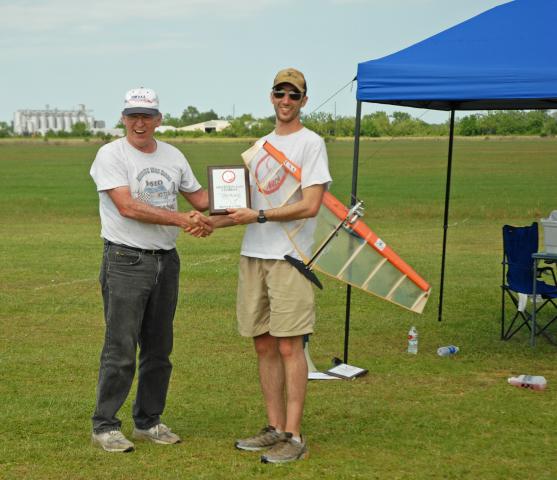 The trophy winners were Igor Dementiev (1st), Mark Rudner (2nd) and Mike Wilcox (3rd)

The photos below are from the final match

Houston F2D Combat-May1&2, 2010; 36 Pilots; Full Double Elimination

Blackwell, Steve-102489






19th-tie
Cleveland, George-34211



5th-tie
Culachkin, Stas-Moldava




9th tie
Delgado, Arnie-Mex1004D







27th-tie
Dementiev, Igor-Moldava


1st
DeVeuve, Allen-125848





13th-tie
Edwards, Dave-97344








27th-tie
Ellison, Derek-693090






19th-tie
Ellison, Josh-693088







19th-tie
Haury, Lester-17906







19th-tie
Hebestreit, Kevin-859567







27th-tie
Johnson, Jeff-15740






13th-tie
Lopez, Richard-L-07








27th-tie
LaPoint, Brad-MAAC-5







27th-tie
Lovgren, Dave-MAAC-11761



9th tie
MacKenzie, Pat-MAAC-8177L



9th tie
Mears, Andy-500478



4th
Mears, Bobby-47881






13th-tie
Melnikov, Yaoslav-MAAC-80520




13th-tie
Minor, Carey-63815







19th-tie
Nadein, Andrey-567525







27th-tie
Owen, David-96730






13th-tie
Plunkett, Pete-38704







19th-tie
Prokofiev, Alex-879705







27th-tie
Quezada, Arial-Mex-6003D







27th-tie
Quezada, Fred-Mex-6002D







27th-tie
Rennick, Alex-865848







27th-tie
Rudner, Chuck-18746




5th-tie
Rudner, Mark-316880



2nd
Siegler, Tom-731241





9th tie
Silva, Leonardo-79512





13th-tie
Stubblefield, Richard-17648






19th-tie
Voytenkov, Alexseyi-922753



5th-tie
Willcox, Michael-33264


3rd
Williams, Howard-226616






19th-tie
Wornell, Greg-79512




5th-tie
Pat Willcox-CD (part time relief other capacities)

CM-Chris Hess

Judges-Neal Rose, Allan Green, Mike Moreland

Admin: Muffy Rudner , Marina