Wingbuster Fall Fly-Off

NEIL SIMPSON, PAUL KUBEK & BRIAN STAS

TAKE TOP THREE SPOTS

NOVEMBER 9, 2014 – HALIFAX, MA – This year the Wingbuster Club Field in Halifax, Massachusetts was once again chosen as the site for our annual post-season contest. In addition to being a great late season Formula GX event, this post season contest has become the forum at which the top finishers in the New England season point championships receive their awards. The weather was partly sunny, seasonably warm with a very light breeze. This year's event attracted five pilots to celebrate a successful 2014 Formula GX season.

Round one saw Neil Simpson get off to the best start posting an 830 point win while the rest of the field started slowly. Neil stayed hot in round two getting past Brian Stas two cuts to one in a well flown match. At the halfway point Neil had the clear lead while the balance of the field was bunched several hundred points behind. In round three Neil earned a one cut win over Chris Sarnowski. In the same round Brian and Matt Stas posted good wins and began to look like they would be contenders for a trophy spot. In round four Brian and Chris faced off and mid-aired early hurting both their cumulative scores in the process. In the final match Matt and Neil were matched up. Good action early, however the ground came on Matt before the halfway point and the match and contest win belonged to Neil. At contest end Paul Kubek, who flew steady and stayed out of trouble, earned a second place finish followed by Brian who ended up in third.

Thank you to the entire Wingbuster Model Airplane Club for the use of their fine facility and for the courtesies extended to us all season long. Thank you to Joe Fustolo, who couldn't fly because of a bad shoulder, but came anyway and judged the matches all day long. Thanks to Beth Brennan who shared in the cut counting, as well.

Wingbuster Fall Fly-Off

5 contestants (all from MA)

10 matches - 2 mid-airs

(E) Neil Simpson/E. Brookfield, MA

2795pts
(A) Paul Kubek/Brockton, MA


1620pts
(E) Brian Stas/Kingston, MA


  1525pts
(A) Chris Sarnowski/Bedford, MA

  1420pts
(A) Matt Stas/Kingston, MA


   1420pts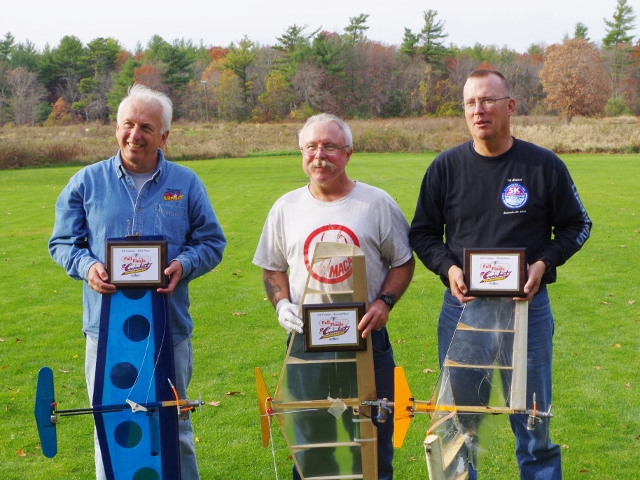 The top three were Neil Simpson (1st), Paul Kubek (2nd) and Brian Stas (3rd)

Photos below coutesy of Paul Kubek, Brian Stas and Beth Brennan