Wingbuster Fall Fly-Off

BRIAN STAS, PAUL KUBEK & NEIL SIMPSON

TAKE TOP THREE SPOTS

OCTOBER 27, 2013 – HALIFAX, MA – This year the Wingbuster Club Field in Halifax, Massachusetts was once again chosen as the site for our annual post-season contest. In addition to being a great late season Formula GX event, this post season contest has become the forum at which the top finishers in the New England season point championships receive their awards. The weather was sunny and seasonably warm with a pesky breeze. This year's event attracted six pilots to celebrate a successful 2013 Formula GX season.

Round one saw Paul Kubek and Brian Stas get off to the best starts each posting 620 point wins. In round two Brian got past Paul posting a one cut win. At the halfway point Brian had the clear lead, Paul was second followed closely by Neil Simpson, Chris Sarnowski and Joe Fustolo. Round three saw Brian and Neil as well as Paul and Chris fly to one cut apiece draws keeping things close going into the final round. In the semi-final match Paul and Neil flew to a one cut apiece draw. The final was a match-up between Brian and Chris. They each earned a cut however a missed airtime cost Chris the match as well as a better finishing position. When the scores were tabulated the order of finish was Brian, Paul and Neil.

Thank you to Cecil Horton and the entire Wingbuster Model Airplane Club for the use of their fine facility and for the courtesies extended to us all season long.

Wingbuster Fall Fly-Off

6 contestants (all from MA)

12 matches - 1 mid-air

(E) Brian Stas/Kingston, MA


      2370pts
(A) Paul Kubek/Brockton, MA


    1840pts
(E) Neil Simpson/E. Brookfield, MA

   1730pts
(E) Joe Fustolo/Stoughton, MA


  1540pts
(A) Chris Sarnowski/Bedford, MA

     1530pts
(E) Glenn Simpson/Worcester, MA

     600pts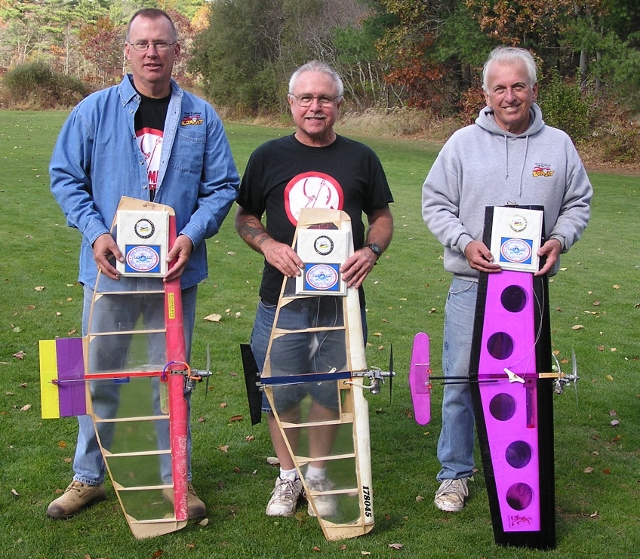 The top three were Brian Sras (1st), Paul Kubek (2nd) and Neil Simpson (3rd)

Photos courtesy of Paul Kubek