Eastern Mass Championships

for F2D Combat

MARK RUDNER, GREG WORNELL

& NEIL SIMPSON

TAKE THE TROPHY SPOTS

SEPTEMBER 18, 2011-MIDDLEBORO, MA- Five New England pilots were on hand for this one. The weather was mostly sunny with a moderate breeze and temperatures warming to the seventies by mid-afternoon. The Wingbuster Club Field in Middleboro, Massachusetts, was the location for what would be a great day for F2D Combat.

At the end of two rounds  Mark Rudner and Greg Wornell each had two wins, two pilots had been sent home while Neil Simpson was hanging around with one win and a loss. In round three Mark gave Neil his final loss two cuts to one in a match that was action filled for the full four minutes. It would come down to Mark and Greg  someone having to lose twice to determine this day's winner. In the first match Greg got an airtime win following some contact early in the match. Mark then came back to win two matches in a row, both by scores of two cuts to one, to secure the contest win. Both matches were exciting and well flown. At the trophy presentation, in addition to his first place gold, Mark received a Special Recognition Award, from all the New England F2D crew. The award was presented to Mark, first for bringing F2D combat to us and then for all his effort and help to try and make us respectable at it.

Thank You to the Wingbuster Model Airplane Club for the use of their wonderful facility. Please know it's very  appreciated. 

Eastern Mass Championships

F2D Combat

5 contestants

Mark Rudner-Cambridge, MA


      5-1
Greg Wornell-Wellesley, MA



3-2
Neil Simpson-E.Brookfield, MA


   1-2
Brian Stas-Kingston, MA



    0-2
Paul Kubek-Brockton, MA



  0-2
Photos courtesy of Brian Stas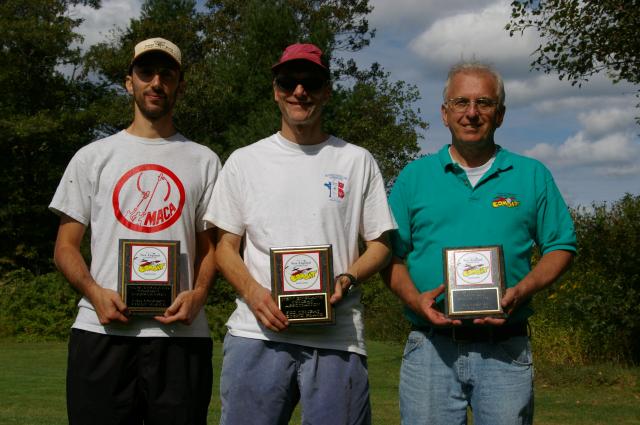 The trophy winners were Mark Rudner (1st), Greg Wornell (2nd) and Neil Simpson (3rd)

Mark is presented his Special Recognition Award