Eastern Mass Championships

NEIL SIMPSON, BRIAN STAS, RICK CLARK & KEN HARGREAVES

ARE TOP FOUR IN FORMULA GX

SHAYLENE VADER WINS SPORTSMAN

MARK RUDNER, BRIAN STAS AND KEN HARGREAVES

ARE THE TROPHY WINNERS IN F2D

AUGUST 14, 2004  MIDDLEBORO, MA - Ten contestants were on hand for this year's Eastern Mass Championships. The weather conditions were partly cloudy and warm with a light breeze. Armed with a weather forecast that promised to bless us with the remnants of  "Hurricane Charley", the next day, we elected to run both the GX and F2D portions of the contest on Saturday, instead of just the GX as originally planned.

Formula GX was first. In round one action Ken Hargreaves and Joe Fustolo got off to good starts, posting 830 point wins.  In round two, Ken and Joe mid-aired, after some good flying early in their match. Next, Neil Simpson just got past Dick Sherman two cuts to one in a match that was action filled. Brian Stas and Paul Kubek also had a battle royal, with Brian winning three cuts to one. At the halfway point it was Neil with 1345 points followed by Brian (1240pts), Joe (1030pts), Rick Clark (1030pts), Dick (1020pts) and Ken (930pts)

Round three started with a match between Neil Simpson and Brian Stas that ended in 410 point draw. This served to tighten the field. The next match was between Rick Clark and Joe Fustolo and it ended in a 510 point draw. This was followed by mid airs between Jeff Vader and Paul Kubek and, also, Dick Sherman and Ken Hargrreaves.

Going into round four it was Neil with 1755 points followed by Brian (1650pts), Rick (1540pts), Joe (1540pts), Dick (1320pts) and Ken (1230pts). This contest would come down to the final four flights. In the first of these flights Ken Hargreaves earned a two cut win over Jeff Vader. In the next match Dick and Jim Carpenter mid-aired early hurting both their chances. In the semi-final flight Brian and Joe had a great match going that ended late with a mid-air. In the final match Neil Simpson earned a one cut apiece draw with Rick Clark in a well flown hook-up. The final order of finish was Neil (2265pts), Brian (2055pts), Rick (2050pts) and Ken (1955pts). Shaylene Vader took home the Sportsman Division "gold".

F2D Combat, double elimination format, was next. There are, including Mark Rudner, eight New England pilots who enjoy participating in F2D Combat. On this day five were in attendance.  Mark, who is world class, ran through the field, undefeated, on his way to the win. The rest of us, who all are getting better, competed for second place. There was long segments of good flying , in each and every match, even those that ended badly.  My favorite match was the fly-off for second and third between Brian Stas and Ken Hargreaves. There was several minutes of clean tight action with both pilots giving a good account of themselves.

Thank You to Wingbuster Model Airplane Club for the use of their fine facility. As usual Norm and Mel had the field in remarkable shape. Thank You, as well, to Rick Clark for all his good work in bringing this contest to fruition.

Eastern Mass Championships

Formula GX Combat

10 Contestants ( 7 from MA) (3 from NH)

20 matches-5 mid airs

(E) Neil Simpson-East Brookfield, MA

  2265pts
(A) Brian Stas-Kingston, MA


        2055pts
(A) Rick Clark-Hingham, MA



2050pts
(A) Ken Hargreaves-Kingston, MA


1955pts
(E) Joe Fustolo-Stoughton, MA


    1840pts
(A) Paul Kubek-Brockton, MA


      1730pts
(E) Dick Sherman-Andover, MA


   1520pts
(E) Jim Carpenter-N. Salem, NH


  1320pts
(A) Jeff Vader-Franklin, NH


          1305pts
(S) Shaylene Vader-Franklin, NH

  1200pts

F2D Combat

5 contestants (4 from MA) (1 from NH)

double-elimination ( 9-matches)

Mark Rudner-Cambridge, MA


4-0
Brian Stas-Kingston, MA


       3-2
Ken Hargreaves-Worcester, MA   

2-3
Neil Simpson-E.Brookfield, MA

     0-2
Jeff Vader-Franklin, NH



  0-2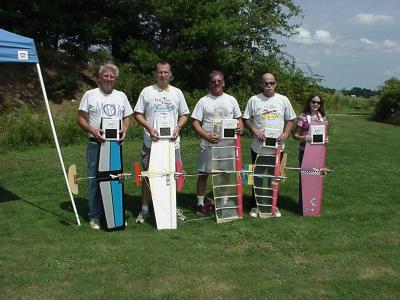 The GX trophy winners were Neil Simpson (1st),

Brian Stas (2nd), Rick Clark (3rd), Ken Hargreaves (4th)

and Shalene Vader (1st sportsman)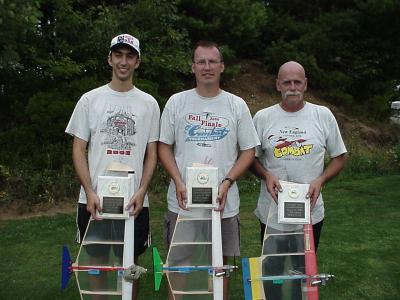 F2D Trophy winners were Mark Rudner (1st),

Brian Stas (2nd) and Ken Hargreaves (3rd)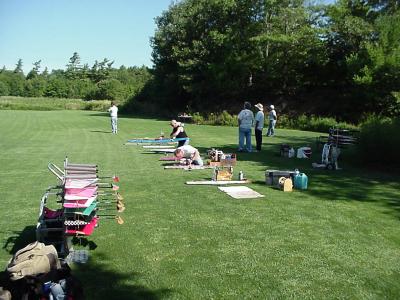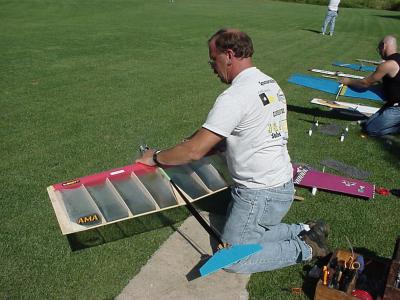 Rick Clark test runs a "Godzilla"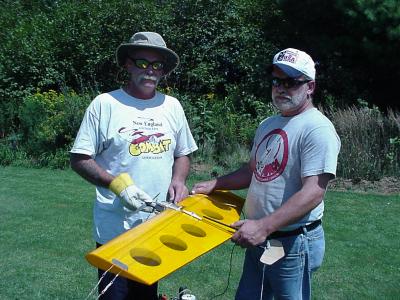 Ken and Kirk Hargreaves have one of Ken's pretty speed limit ships ready for a match.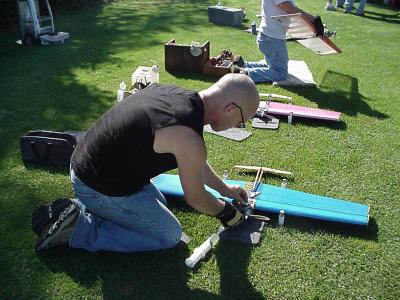 Jeff Vader preps one of his machines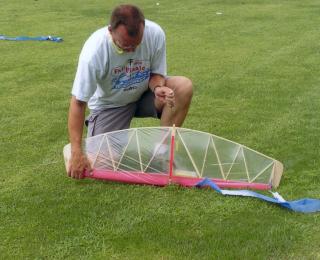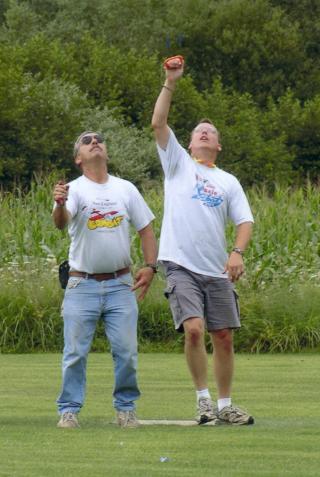 Brian's Barracuda is up to its' gills in the     Middleboro mud

Ken Hargreaves Photo

Joe Fustolo and Brian Stas     

  Ken Hargreaves Photo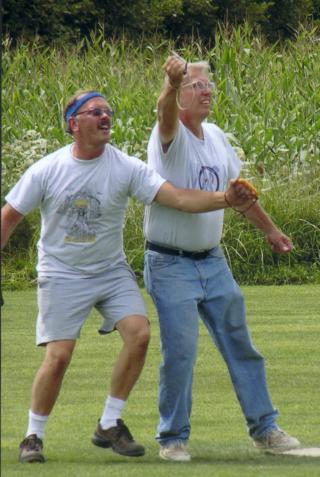 Rick Clark and Neil Simpson

Ken Hargreaves Photo