Central Mass Championships

NEIL SIMPSON, PAUL KUBEK AND BRIAN STAS

TAKE THE TROPHY SPOTS

AUGUST 10, 2014 – EAST BROOKFIELD, MA – Five contestants were on hand for this year's running of the Central Mass Championships. The location was the East Brookfield Elementary School in East Brookfield, Massachusetts. The weather was perfect with sun, almost no wind and temperatures in the eighties.

Paul Kubek and Brian Stas got off to the best starts each posting 620 point round one wins to lead the field and they held the clear lead through round two when they flew each other to a one cut apiece draw. In round three Neil Simpson earned a three cut win over Paul Kubek while Brian Stas sunk back to the field the result of an early match mid-air with Chris Sarnowski. In the final round Neil got past Brian on airtime after they each scored a cut while Paul and Matt Stas were flying to a one cut apiece draw. When the dust settled Neil had just enough cumulative points to edge past Paul for the contest win. Brian finished third just off the pace set by Neil and Paul.

Everyone ate, drank and enjoyed each other's company at the post contest cookout at Neil's afterwards. The food was prepared and the festivities were hosted by the lovely Beth Brennan.

Central Mass Championships -Formula GX Combat

5 contestants (all from MA)

10 matches (1 mid-air )

(E) Neil Simpson-East Brookfield, MA


1960pts
(A) Paul Kubek-Brockton, MA



  1940pts
(E) Brian Stas-Kingston, MA



1630pts
(A) Chris Sarnowski-Bedford, MA


      1435pts
(A) Matt Stas-Kingston, MA




1310pts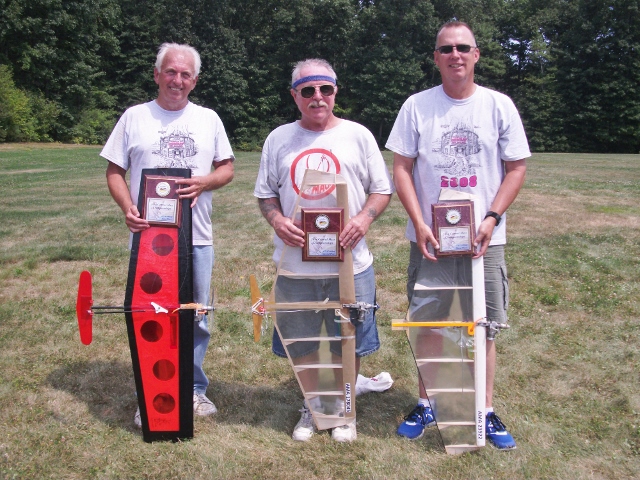 The top three were Neil Simpson (1st), Paul Kubek (2nd) and Brian Stas (3rd)

photos below courtesy of Paul Kubek